If you want more visitors to land on your site, content is key. Writing high-quality, optimized content can attract more visitors to your site for free (yes, free)! The main factor here is being easy to find on search engines. Writing with search engine optimization (SEO) best practices doesn't need to be overwhelming. This blog will break down the topic and explain how to optimize content for organic search across industries.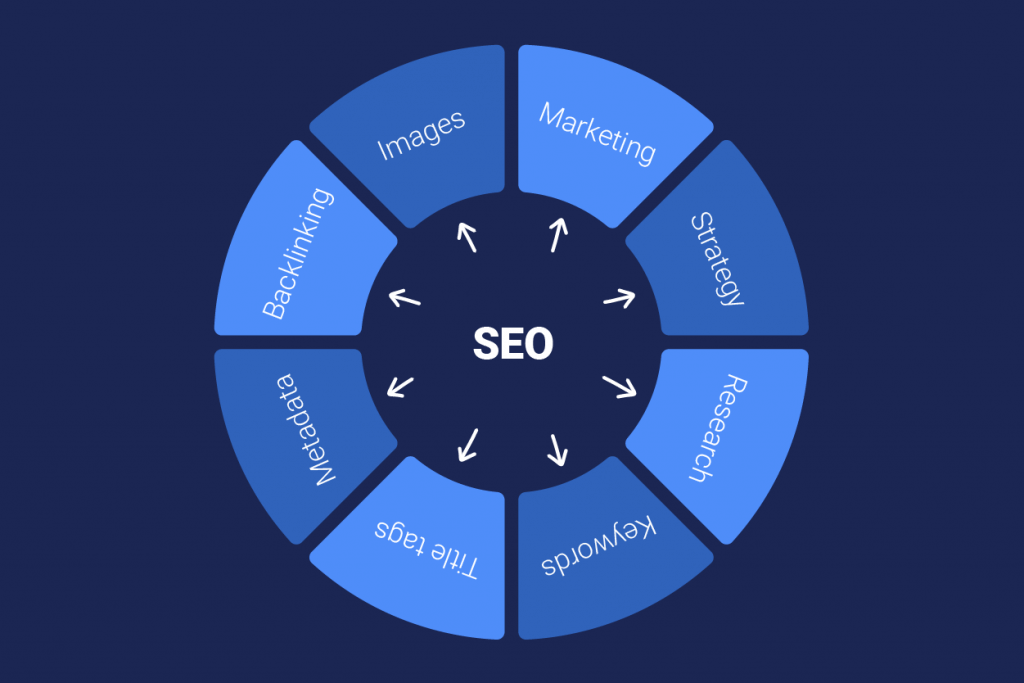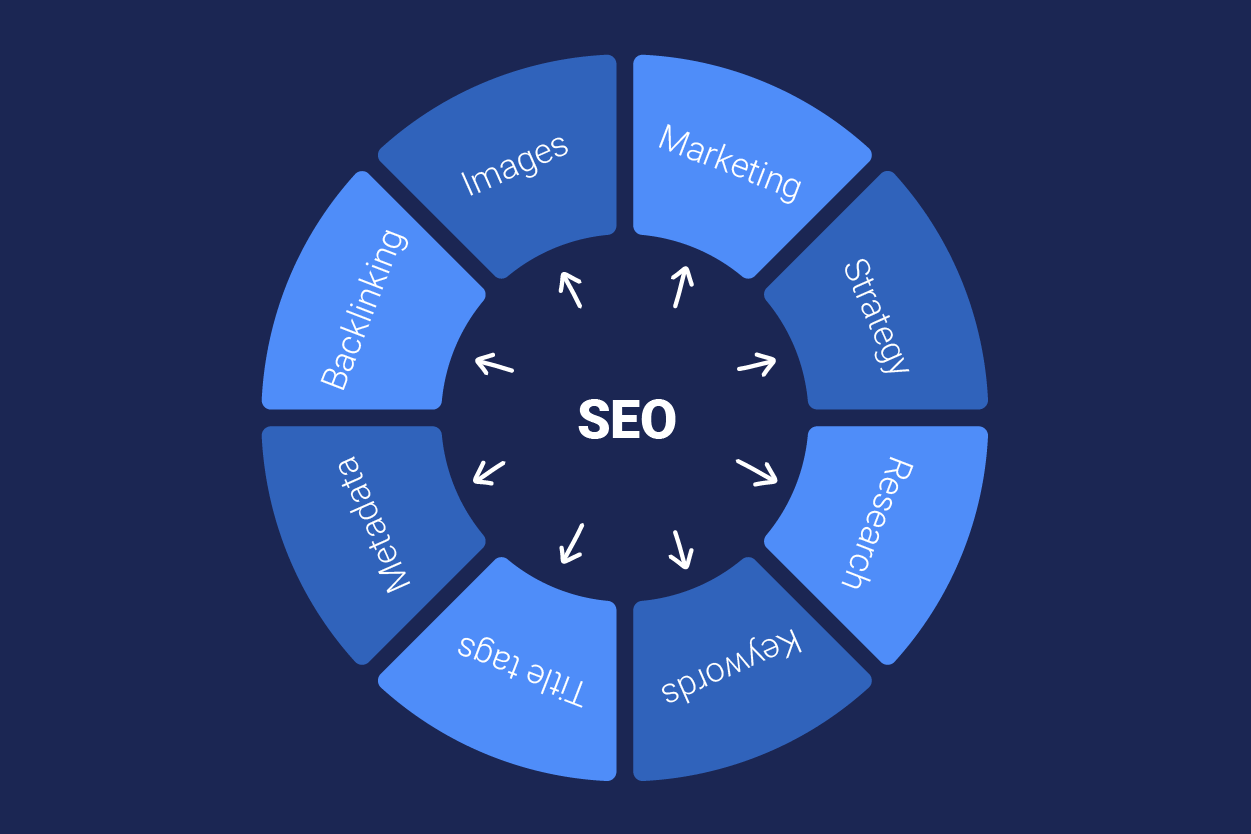 What exactly is SEO?
SEO stands for Search Engine Optimization. And, it does exactly that – it helps content show up higher on search engines, such as Google, Bing, and Yandex. The result: greater quality and quantity of website traffic.
Search engines gather and rank all content produced per search query with crawlers and then run those rankings through algorithms to determine how relevant and high-quality content is, and therefore, what page of the search engine it appears on.
Landing on the first page or in the first position for search engine ranking drives more traffic. That's why authoritative sites typically appear first on search engine rankings as you can see in the screenshot below.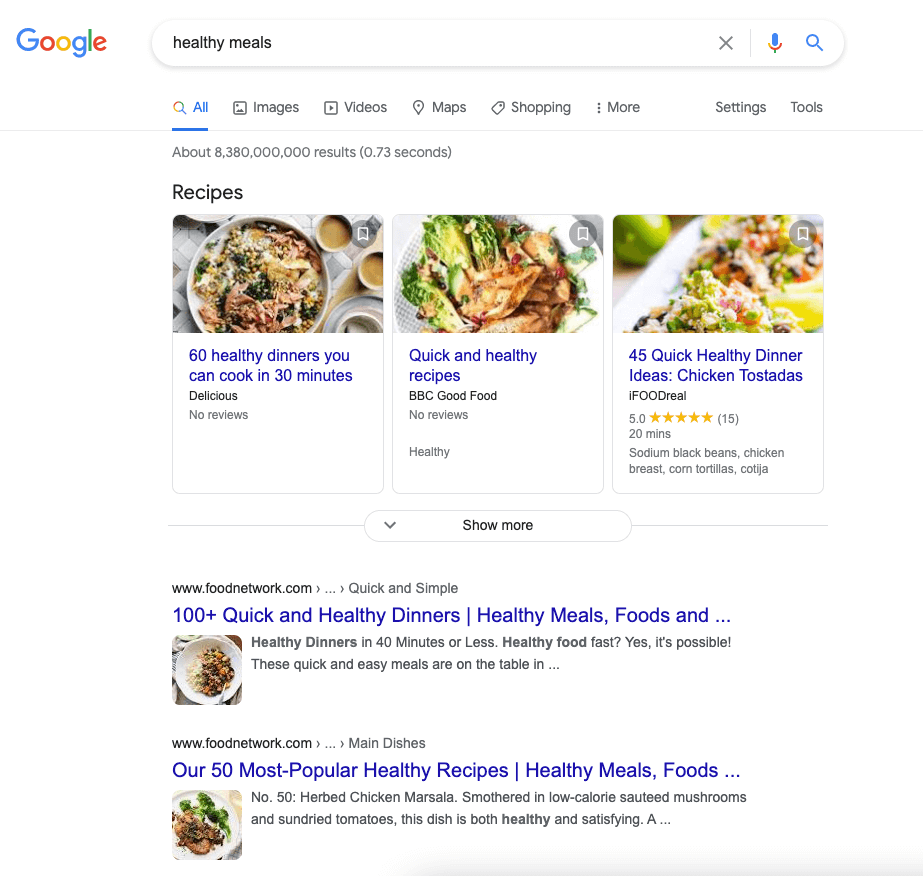 So, what ranking factors matter for SEO? There are two major categories: on-site and off-site factors. On-site SEO are things like keywords and page relevancy. You can influence these by making changes directly on your site. Off-site SEO requires work outside of your site. This measures things like your site authority, which search engines judge based on link building (more on this later).
Pro Tip: Blogging can help boost your on-site SEO by providing relevant content that answers your users' questions directly on your website. Blog content and landing pages with optimize on-page SEO provide more opportunities to rank higher in search engines and get more traffic from searchers.
What is content optimization?
Content optimization is the process of updating the on-page copy, images, links, and even the code to help search engine algorithms rank your pages higher. Ultimately this helps your target audience find you. The industry term for this is SEO content.
The more effective content will be search-friendly for Google and for people.
How to optimize content for SEO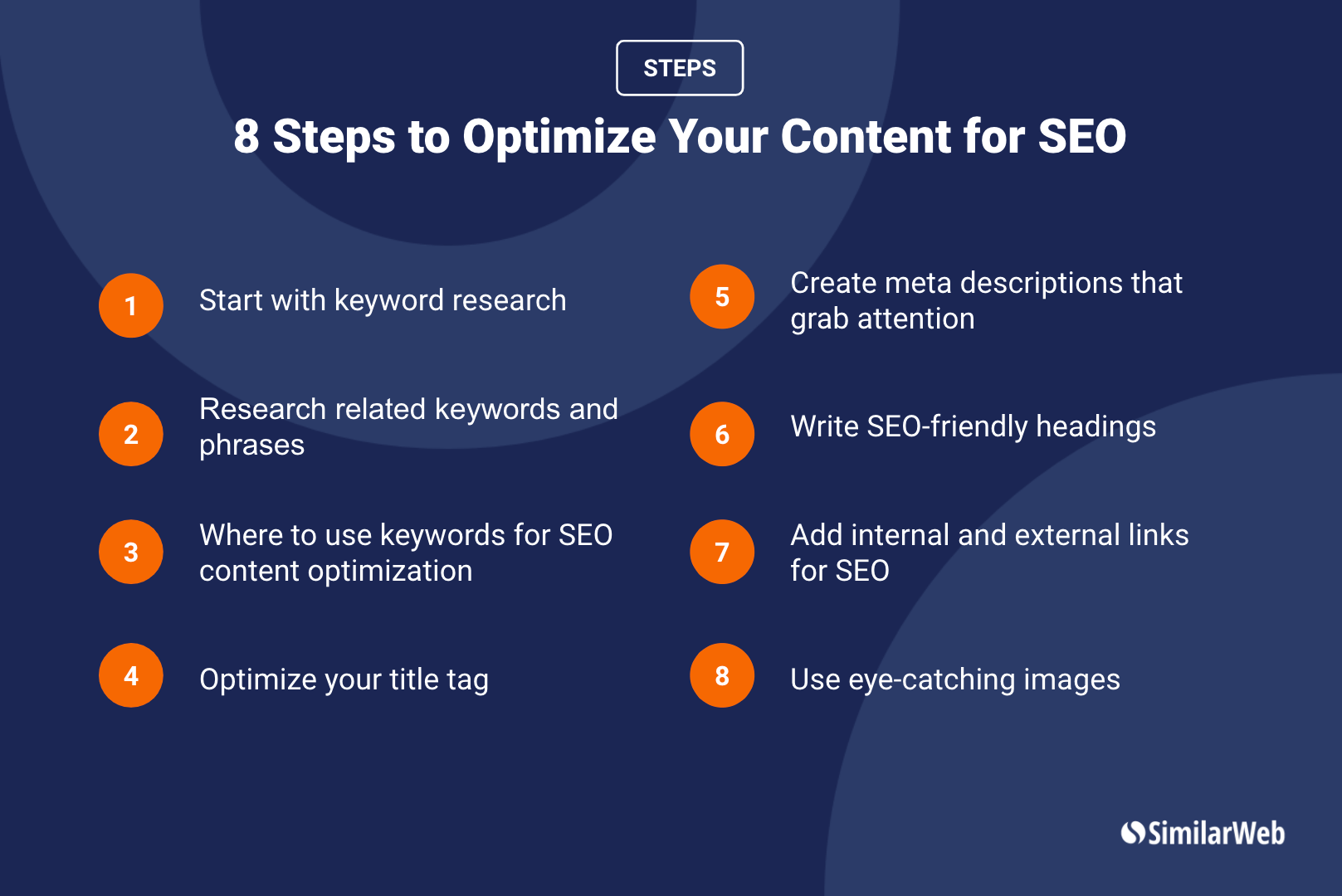 1. Start with keyword research
Keyword research is the first step in SEO copywriting and content creation in general. It's an essential part of any successful content marketing and SEO strategy. Before writing, decide which terms you want your content to rank for. Get inside your target audience's head and research how they search for relevant content. Think about what wording or phrasing they would search for and how that relates to your business. Then, use those exact terms as you write.
2. Research related keywords and phrases
Next, brainstorm. Put yourself in your audience's shoes and jot down some terms and phrases that could be relevant. For example, if you are writing about how to effectively market health and diet trends, ask yourself 'what would searchers Google to find this information?'
Also, use Google or YouTube for inspiration since both platforms make suggestions as you type in their search bars. Another option is to just search 'Searches Related To…' and see what pops up. For more targeted phrases, go to SimilarWeb and research which search terms your competitors are using to win traffic. You can also use SimilarWeb's keyword generator to obtain a list of keywords related to any seed keyword. This gives you inspiration, and more keywords to target.

For example, looking at walmart.com and target.com, Walmart wins a large majority of relevant search traffic (69%) while Target lags behind with only 30%.To win more keyword traffic, Target first needs to understand what keywords Walmart is using to drive traffic.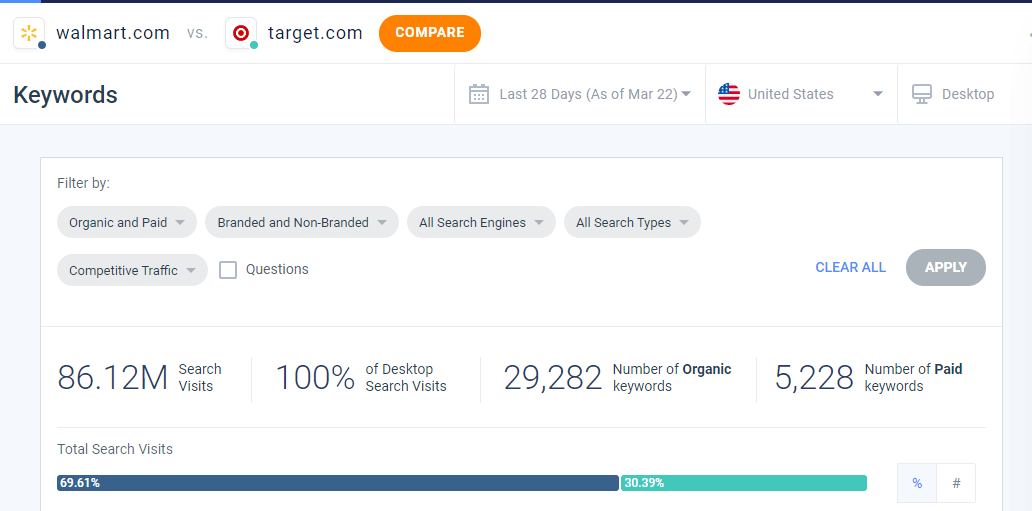 The most important factors to consider when choosing keywords and phrases are search volume, organic click-through-rate (featured snippets), the level of difficulty, and keyword trends.
3. Where to use keywords for SEO content optimization
To help search engines link your keywords to your content and deem it relevant, you should use your main keyword within the first 100-150 words as well as in headers. Of course, it's also critical to use keywords naturally throughout the text. The important word here: naturally. Keyword stuffing is actually penalized by search engine algorithms. This is an easy trap for marketers to fall into.
Remember SEO should not compromise the originality of your ideas or the readability of your text. Your goal is to mention your target keywords enough times that search engines understand your page is truly relevant, not to use your keywords as many times as possible even when they don't quite fit.
4. Optimize your title tag
To ensure your title tag – also known as meta title and page title – helps your SEO ranking, make it enticing and related to the rest of the content on your page. Try to use relevant keywords towards the beginning of the title to prove relevancy, and avoid keyword stuffing. Note, your title should have between 50-60 characters – if it's any longer it will be cut off in the Search Engine Results Page (SERP). Each page needs to have a unique title.
Take a look at the two titles below and guess which one wins more clicks.
[Hopefully you guessed the 1st one!]
5. Create meta descriptions that grab attention
A meta description is a crucial piece of content that appears as part of search results under the meta title. It's not a direct ranking factor. But it is one more opportunity to grab the attention of searchers. Remember compelling content here drives clicks. A powerful meta description can bump up your click-through-rate, so take advantage of this opportunity.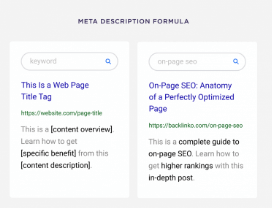 Here are a few easy tips for crafting a strong meta description:
Write a compelling call-to-action using strong verbs such as 'discover' or 'learn'
Give each page a unique meta description
Keep to within 155 characters so it doesn't get cut off by the SERP
Include your main keywords
6. Write SEO-friendly headings
The main heading of any piece of content is called H1. Your H1 should include your primary keywords. It should also be closely related to the title tag and to the main topic of the page.
After all, it's logical that the title and heading of a page addressing a specific topic will also address that topic in its headers. The H1 introduces the main topic of your page and guides the user experience. They highlight the main points and add structure to the content. Therefore, having your keywords within those elements signals Google's algorithm that your website's relevant for your target keyword as well.
The main subheadings are H2 headers and the smaller headings are called H3. Both H2 and H3 headers should include secondary keywords whenever possible. The mix of short-tail and long-tail keywords from these headers will help search engines understand the structure and content of your page. Note that the order helps Google's algorithm understand the content structure and the value it provides users.
Here is an example:
H1: How to Build and Maintain Healthy Eating Habits
H2: Redefining your relationship with food
H3: Practicing mindful eating
7. Add internal and external links for SEO
Don't underestimate the importance of links. Including external and internal links so your content is perceived as a credible reference. This can also help you to position yourself as an expert on the topic – to both search engines and your audience.
External linking should link to reliable, authoritative sources that support your content's claims. External linking builds a relationship history between your site and more established sites, so rely on well-known, reputable publications like Forbes, Business Insider, Neil Patel, and more. Internal linking are links that take readers to other related content within your site.
All links need a proper UTM and to open in a new tab, so the reader can view the additional resource without leaving your content. As a rule, a short, easy-to-read URL that separates your main keyword with hyphens is ideal.
For example:
Do: https://www.mysite.com/healthy-habits
Don't: https://www.mysite.com/?category=7&article=3
8. Use eye-catching images
Strong images can raise curiosity and motivate people to read your piece. They can also lead to social shares. That is why it is so important to include relevant, interesting images with alternative text (commonly referred to as simply 'alt text'). Alt is a text description that is added to an image's HTML tag on a web page. It is displayed when a user moves their mouse over the image and when the image cannot be displayed.
Image Alt text optimization helps search engines understand what your images show which, again, helps your content rank higher. Your alt texts can be a complete sentence describing the image and should be based around your target keywords as well.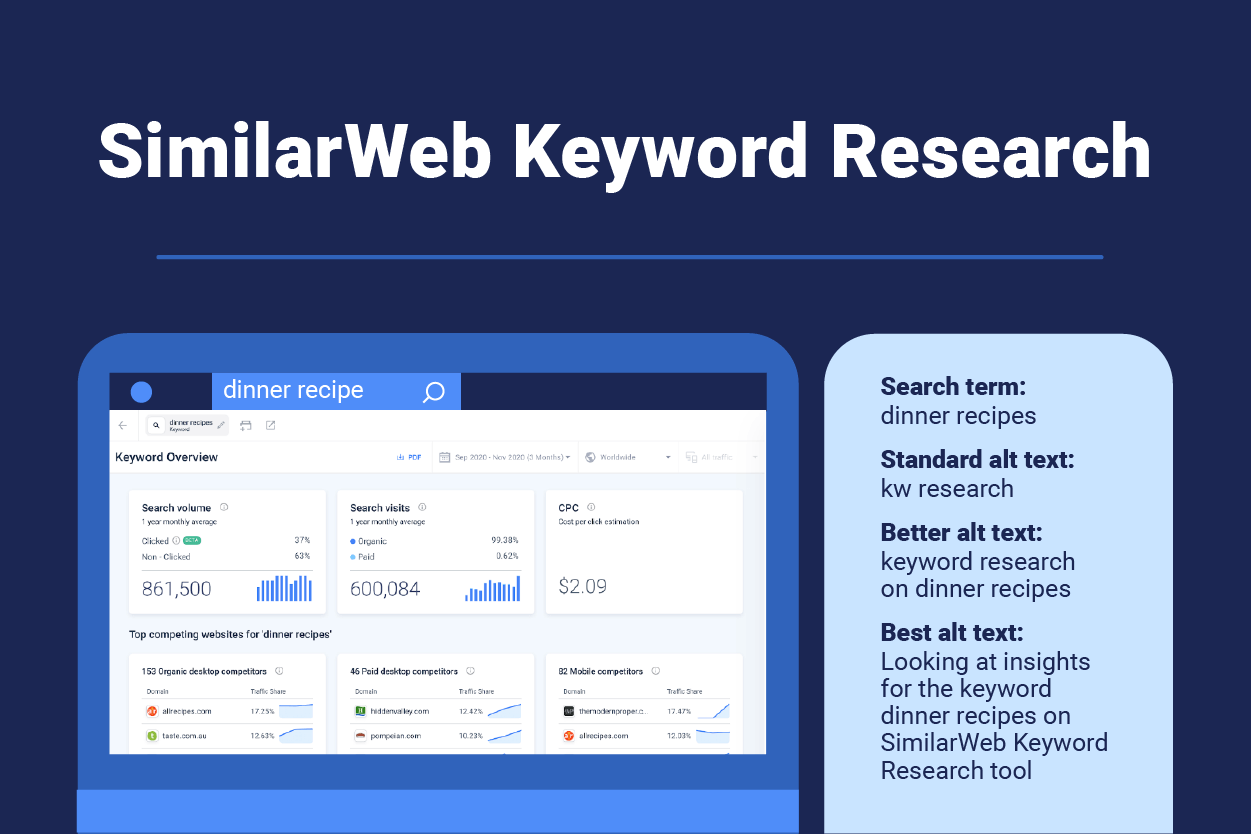 Optimized content makes an impact
Optimizing each piece of content with an SEO strategy can make a huge difference in the quality and quantity of the traffic your site receives for free. Following these guidelines gives you an edge over competitors. Want to learn more about optimizing your keyword and SEO strategy? Check out our step-by-step guide.
The primary research for this blog was conducted by Sharon Enkaoua, CMS & Marketing Campaign Manager at SimilarWeb.