by Tara Zirker / December 30, 2020 / Leave a Comment
Do you run Facebook ads? Wondering how to stop your ads from running on content that doesn't match your brand values?
In this article, you'll discover how to use Facebook's Brand Safety tools to control where your Facebook ads appear. You'll learn how to view a list of Facebook pages and Audience Network apps on which your ads could be shown and how to create a block list to manage that exposure.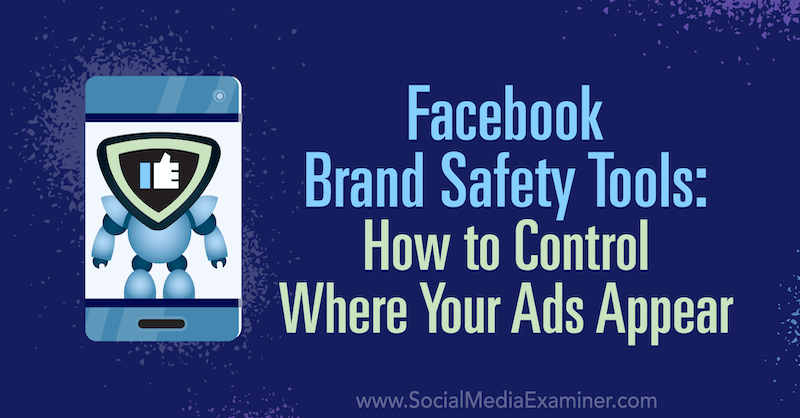 To learn how to use the Facebook Brand Safety tools, read the article below for an easy-to-follow walkthrough or watch this video:
#1: Access Facebook Brand Safety Tools
If you're concerned about where your Facebook ads appear on the platform and the Audience Network, you can control their placement with Facebook's Brand Safety features.
To access these tools, go into Facebook Ads Manager and click the nine-dot icon at the top left under the home button. Then in the pop-up menu, select Brand Safety. If you don't see this option in your shortcuts, it'll be in the Manage Business section.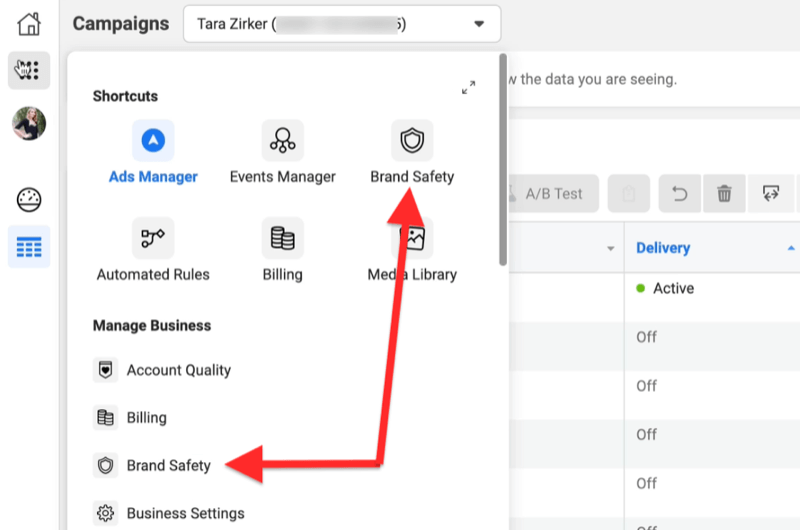 In the Brand Safety dashboard, you'll find five tabs on the left side of the screen: Overview, Controls, Block Lists, Publisher Tools, and Delivery Reports.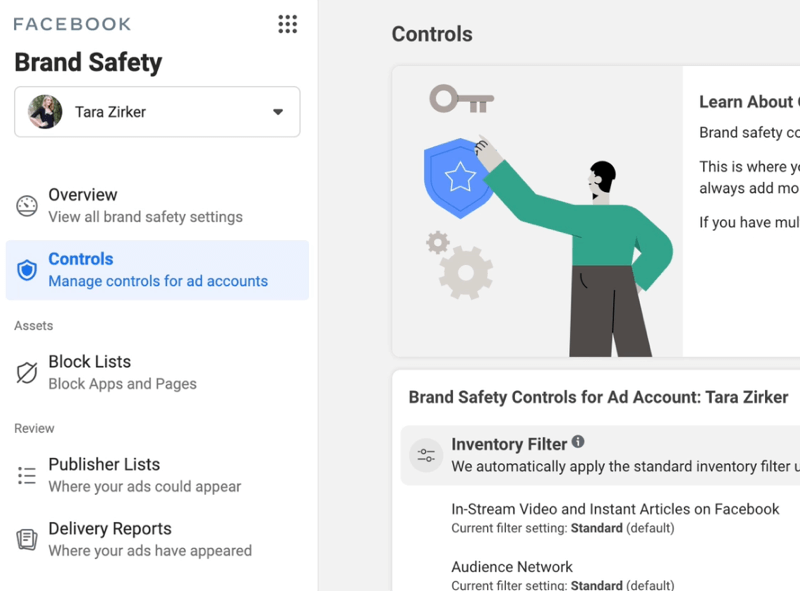 The Brand Safety tools are administered at the ad account level so if you manage multiple accounts you can quickly and easily toggle between them. Simply click the account drop-down menu and scroll through the list to find the account you want to work on.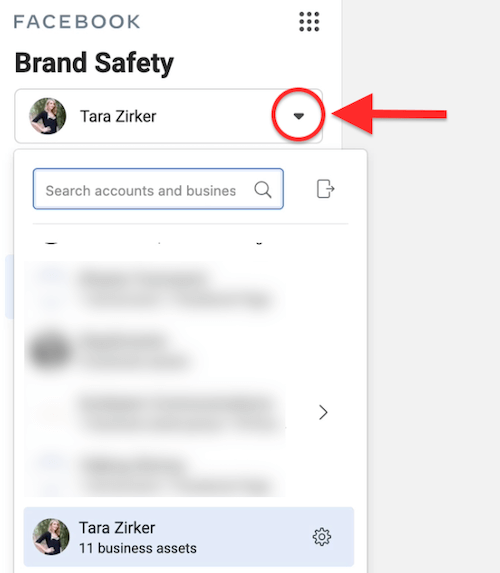 Now that you know how to access the Brand Safety features, we'll walk through how to use them to control and track where your Facebook ads appear.
#2: Stop Your Facebook Ads From Showing in Sensitive Content
When you open the Controls tab, you'll see your current inventory filter at the top.
The Standard Inventory filter is the default setting but there are two other options you can choose from.
If you don't want your ads to appear next to overly aggressive video content, go with the Limited Inventory setting. If you don't want any exclusions on your ads, select Full Inventory.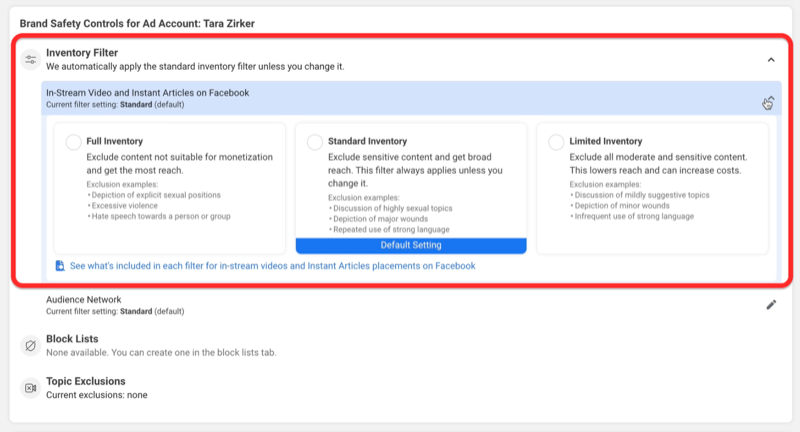 Pro Tip: If you have multiple accounts inside of Business Manager, you can quickly and easily set the inventory filters on the Overview tab.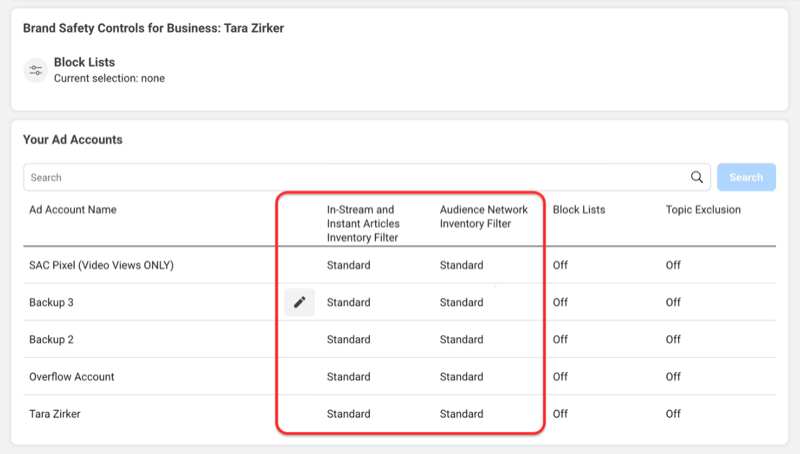 #3: Stop Your Facebook Ads From Showing on Specific Websites and Facebook Pages
If you've previously created a block list for your ads, it will appear on the Controls tab in the Brand Safety dashboard. A block list is a list of specific pages or apps on which you don't want your Facebook ads to appear.
Social Media Marketing Workshops (Online Training)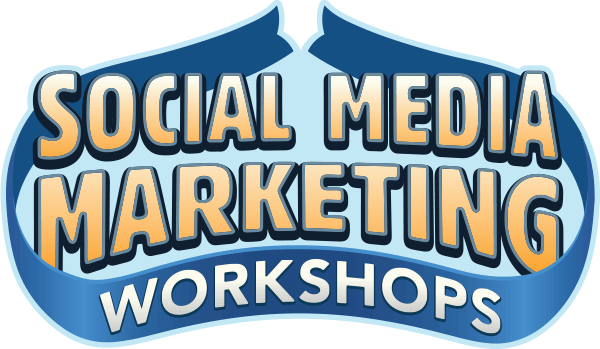 Want to improve your paid and organic marketing on Instagram, Facebook, YouTube, or LinkedIn—and secure your future? Get ready to be coached by 14 of the world's best social marketing pros in the most comprehensive social marketing training we've ever offered. You'll receive step-by-step live instruction so you can increase your reach, create amazing engagement, and sell more with social media. Become the marketing hero for your company and clients as you implement strategies that get proven results. This is a live online training event from your friends at Social Media Examiner.
To set up a block list, you'll need a TXT or CSV file that includes the website domains and app store URLs to block on the Audience Network, as well as the URLs for specific Facebook pages to block for instant articles and in-stream videos.
If you aren't sure where to start, you can download Facebook's publisher list—which is a master list of places where your Facebook ads could appear, including Audience Network apps and Facebook pages—and make your exclusions from there. To download this list, go to the Publisher Lists tab and click Download Publisher List on the right.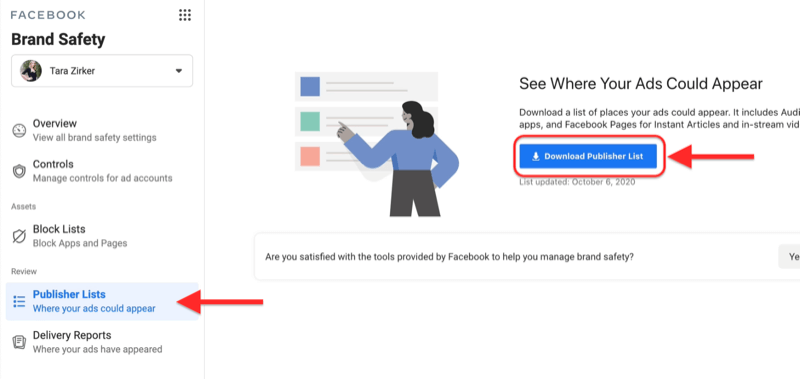 Once you've prepared your block list file, the next step is to upload it to Facebook. To do this, go to the Block Lists tab in the left navigation and then click Create Block List on the right.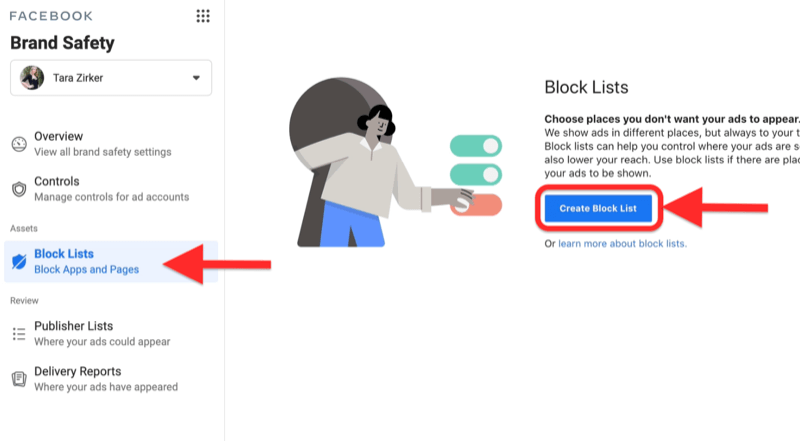 On the next page, type in a name for your block list and drag and drop your file to the Upload a Text File field. When you're done, click Upload.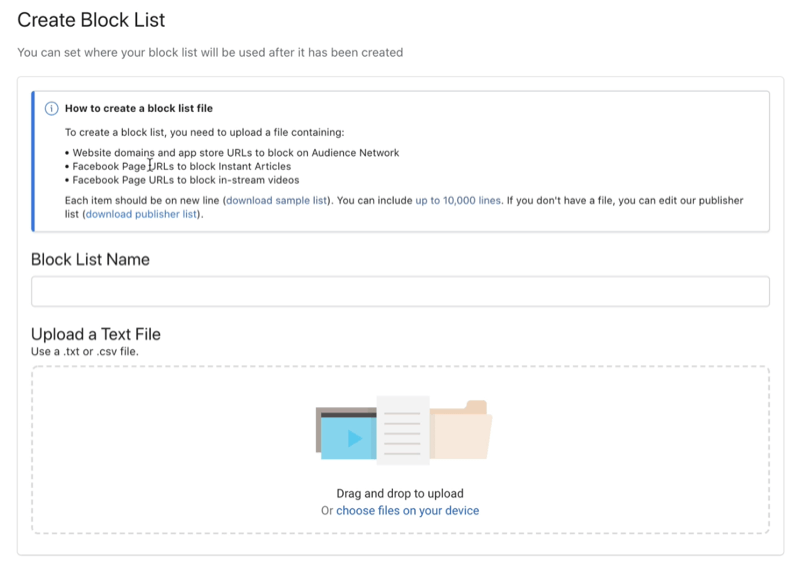 #4: Avoid Serving Your Facebook Ad During Specific Types of Videos
The last control you'll find on the Control tab in the Brand Safety dashboard is for topic exclusions. This is where you can stop your Facebook ads from appearing in in-stream videos related to gaming, news, politics, and religion and spirituality. You'll also find an option to stop your ads from appearing in all live streams.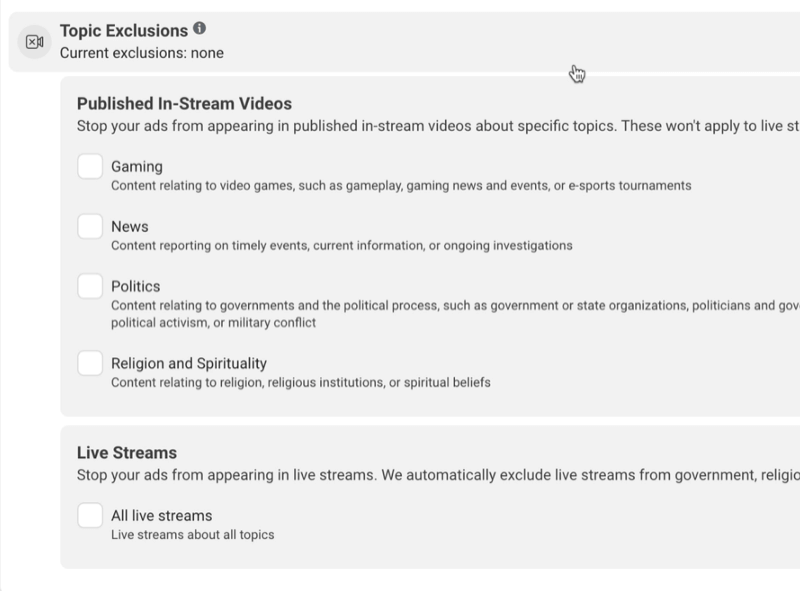 #5: Download a Delivery Report to See Where Your Facebook Ads Have Appeared
The Brand Safety dashboard also gives you access to a report that will show where your ads have shown up in the past. You'll find this data on the Delivery Reports tab.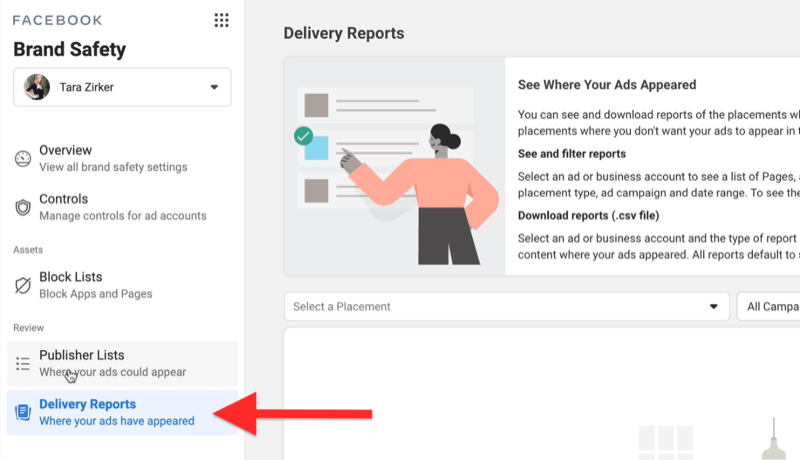 Using the first drop-down list on the right side of the page, you can filter your delivery report data by placement—Facebook in-stream videos, Facebook instant articles, or Audience Network videos. Select the placement you're most interested in and Facebook will show you where your ads have shown up in the past.

Scan through this list and if you see any placements that you're unhappy with or aren't conducive to your brand and guidelines, you might want to put them on your block list.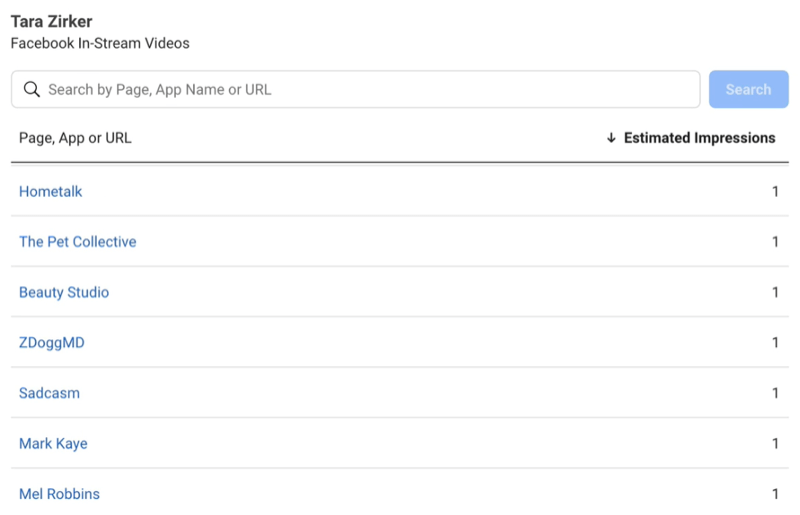 Conclusion
Facebook's Brand Safety features allow you to have more control over where your ads are shown. You'll find options to stop your Facebook ads from appearing in specific types of content, on specific websites and pages, and for specific topics. You can also run a Delivery Report to see where your ads have appeared in the past.
What do you think? Have you tried Facebook's Brand Safety tools? Share your thoughts in the comments below.
More articles on Facebook ads:
Discover how to convert website traffic with Facebook ads
.
Find out how to write Facebook ads that reduce the barrier to purchase
.
Learn how to budget your Facebook ad spend based on your revenue goal
.
Tara Zirker is an advertising expert and founder of Successful Ads Club who has taught thousands of business owners to rapidly scale through the power of Facebook & Instagram ads.
Get Social Media Examiner's Future Articles in Your Inbox!
Get our latest articles delivered to your email inbox and get the FREE Social Media Marketing Industry Report (46 pages, 60+ charts)!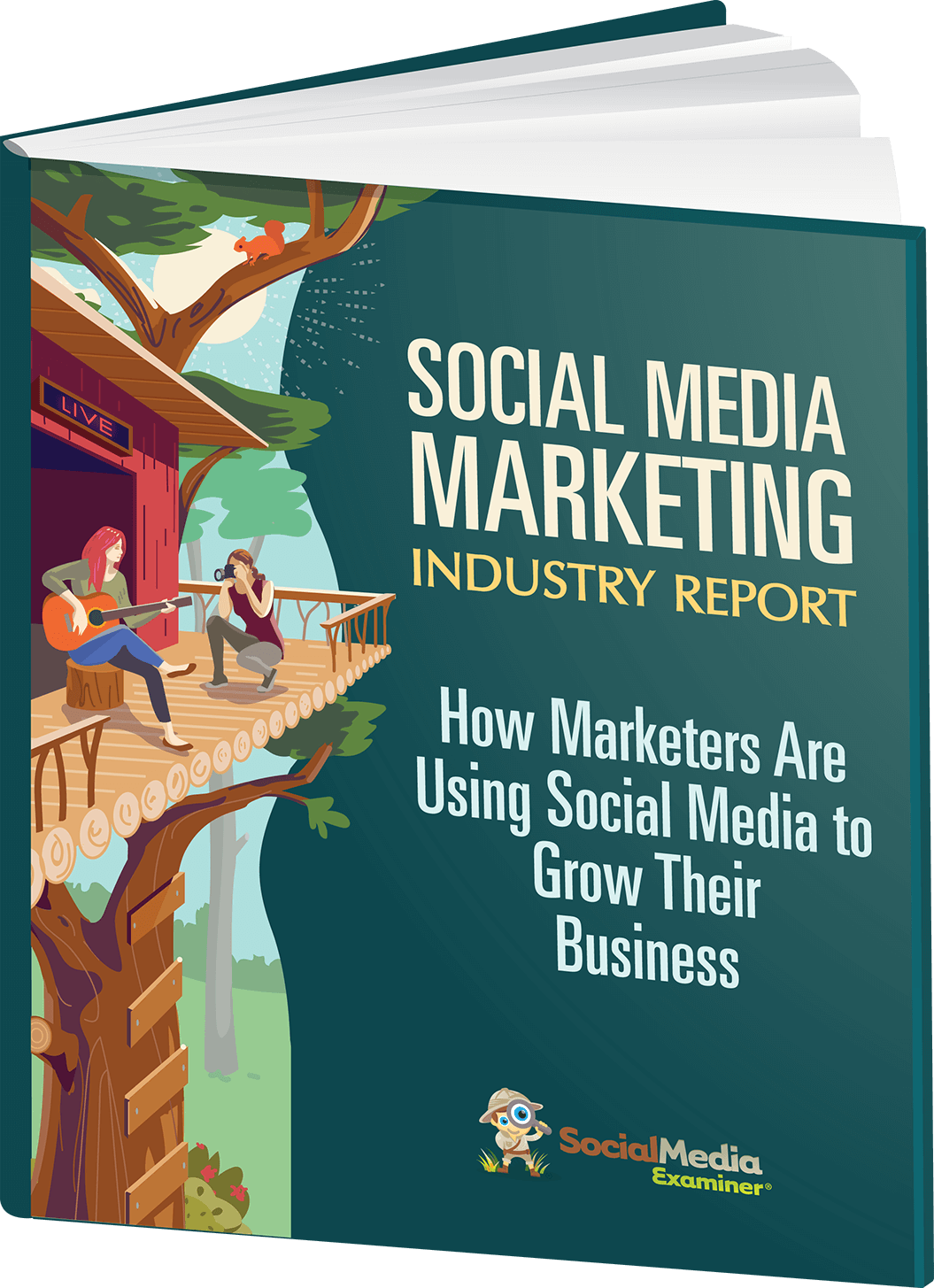 Reader Interactions