by Luan Wise / November 10, 2020 / Leave a Comment
Want to create deeper relationships with people on LinkedIn? Wondering how to encourage purposeful conversations with the people in your LinkedIn network?
In this article, you'll discover three tips to spark conversation on LinkedIn via connection requests and feed posts.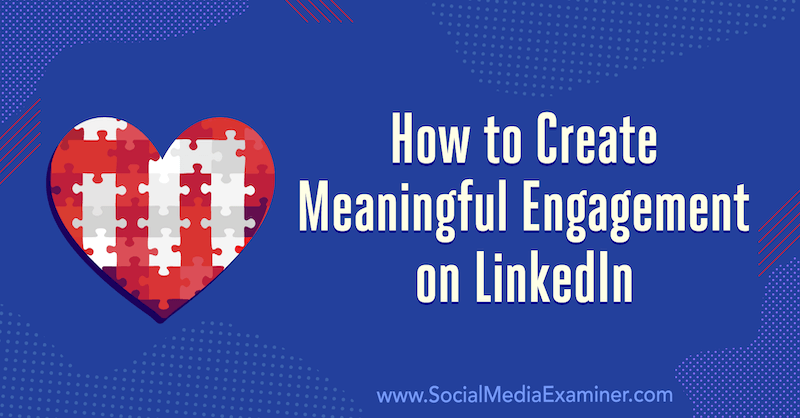 #1: Compose Conversational LinkedIn Connection Requests
If you want to connect with someone on LinkedIn with no prior meeting or conversation, it can be helpful to follow them first before sending them a connection request.
Following someone on LinkedIn allows you to see their posts and articles on your home page without being connected to them. It's only a one-way relationship; they won't see your posts or activity in their feed or notifications.
Following first can be a useful way to gather insights about a person and their business so you have something to mention when you approach them to connect on LinkedIn. A personalized invitation with a positive comment and perhaps highlighting a common interest will grab their attention and make a great first impression. This helps you stand out from the impersonal, generic "I want to join your network" messages.
If you view someone's LinkedIn profile and wish to follow them, don't click on the blue Connect button. Instead, click the More icon at the top of their profile and select Follow from the drop-down menu.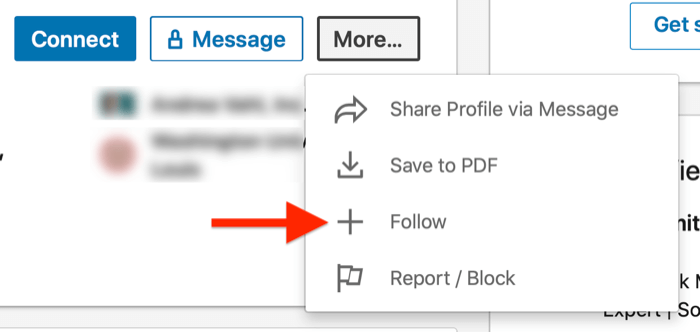 They'll receive a notification about your follow but they're not required to take any action.
Pro Tip: Some LinkedIn users have Follow as a default option on their LinkedIn profile. If you see this instead of the Connect button, you can just click/tap on this option to follow the user. When you're ready to connect, click the More button and select Connect from the drop-down menu. Note: LinkedIn users are limited to following 5,000 people who aren't connections.
When you send a connection request to someone on LinkedIn, personalizing it with a short message will make it more likely they'll respond. And if you include a question, it's easier to initiate a conversation because you've prompted the recipient to respond.
To personalize your message on the desktop version of LinkedIn, click on the blue Connect button on the person's profile and then click Add a Note.

LinkedIn has a 300-character limit for connection requests so be succinct with your introductory message. Don't try to sell—it's far too early in the relationship; it's like proposing marriage on your first date.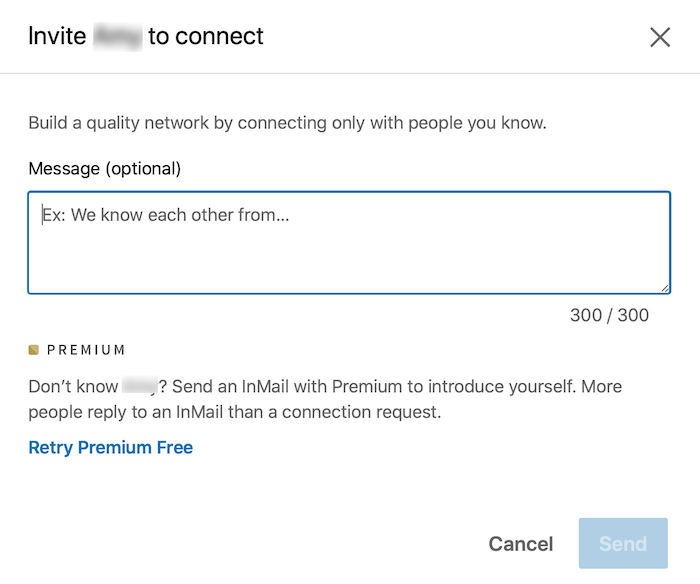 When writing your message, put yourself in the recipient's shoes and let them know what's in it for them to connect with you. It's not about you and how you wish to grow your network; consider why they might want to respond to your message and not delete or ignore it.
When using the LinkedIn mobile app, you can personalize your message by tapping on the More button in the top section of the person's profile. Don't click on the blue Connect button; that will prompt LinkedIn to send an automated request to the recipient without your message.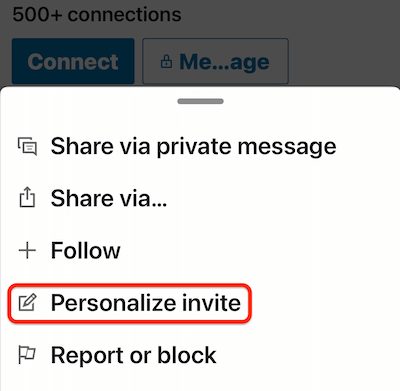 If you receive a LinkedIn connection request with a message, click on Reply and say thank you. Add more text if you can to keep the conversation going. Follow up with a further question or maybe offer a link to a resource you think your new connection might find helpful.
If you receive a connection request without a message, you can take control and send a message to start a conversation. I use a simple template like this (personalizing it where I can):
Hi <first name>
Thanks for your invitation to connect. I don't think we have yet met (forgive me if we have!).
Is there anything I can help you with right now?
Best wishes, Luan
To send a reply to a connection request that has no personalized message with it, go to the My Network tab and click on See All next to your invitations.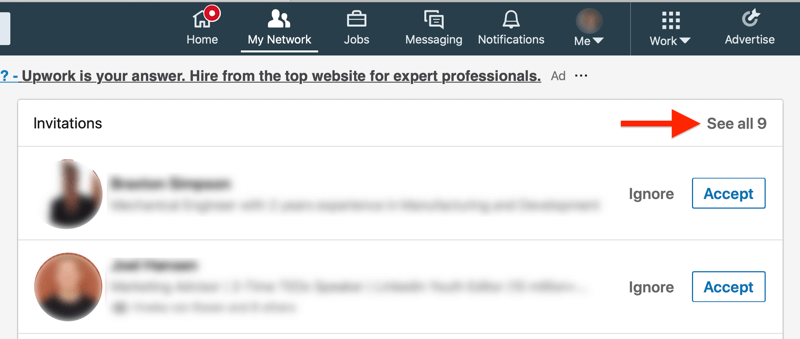 On the next page, you'll see a blue Message option. Click on this link to send your personalized message. When you receive a response, follow up to keep the conversation going.
Luan Wise is a chartered marketer with over 20 years' experience in agency, client-side, and consultancy roles. She is author of the award-winning book, Relax! It's Only Social Media.
Get Social Media Examiner's Future Articles in Your Inbox!
Get our latest articles delivered to your email inbox and get the FREE Social Media Marketing Industry Report (46 pages, 60+ charts)!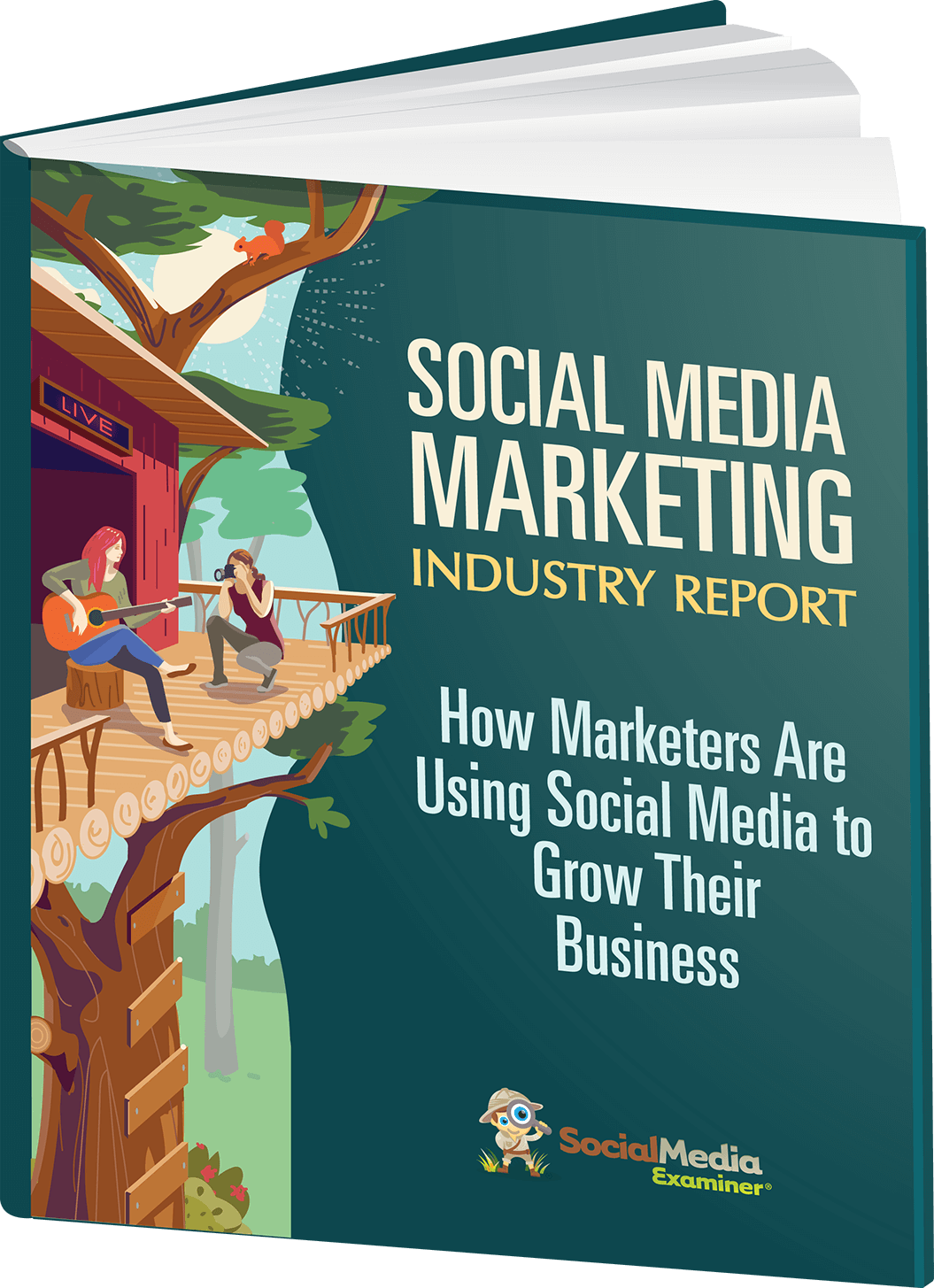 Reader Interactions